Calcium Carbonate (Activated & Precipitated)
Lime Chemicals Limited was established in the year 1970 as a private limited company. The core manufacturing competency of the company is the manufacture of "Percipitated and Coated Calcium Carbonate".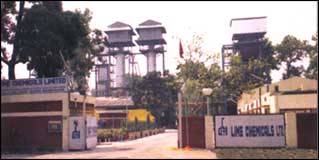 As the process and production capacities grew, the company gathered enough strength to consolidate its position in the Indian market. And it began to drive the market and lead from the forefront. The first major milestone in the history of Lime Chemicals was in 1986, when the company turned public.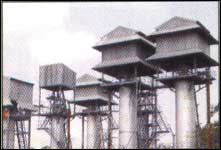 The results began to show early. In less than 10 years, Lime Chemicals Limited became the largest supplier of Calcium Carbonate to Oral Care Industry and is today a major vendor to Colgate Group & other dentifrice manufacturers. Recently the company's unit at Roha achieved another milestone, when it received the ISO 9001 : 2000 Certification. Our annual turnover is 55 Crores and production capacity is 72,000 MT per annum. We also planned our expansion 1,00,000 MT per annum.
Product Specifications
Download File
Chemical Analysis Of Precipitated & Coated Grades Of Calcium Carbonate

Colour

White

Solution in 5 N HCI

Clear

Soluble Alkali as Na2O

0.15% Max.

PH

9.0-10.5

Iron (Fe) Max.

0.02%

Manganese (Mn) Max.

0.005%

Fluoride (F) Max.

Traces

Phosphate(PO4) Max.

0.08%

Sulphate (SO4) Max.

0.2%

Silica (SiO2)

0.07%

Aluminium Iron Phosphate & Matter Insoluble in HCI IS-9/8/1985

0.5%

Magnesia (MgO)

0.5%

Copper (Cu)

Negligible

Lead (Pb)

Less than lOppm

Arsenic (As)

Less than 2ppm

Chlorides (CI)

Traces

Calcium Carbonate Content

98.6% Min

Specific Gravity

2.7

Loss on Drying At 105 C

.5-.8%

Hunterwhiteness

97% Min.
Typical Properties of Precipitated Grades of Calcium Carbonate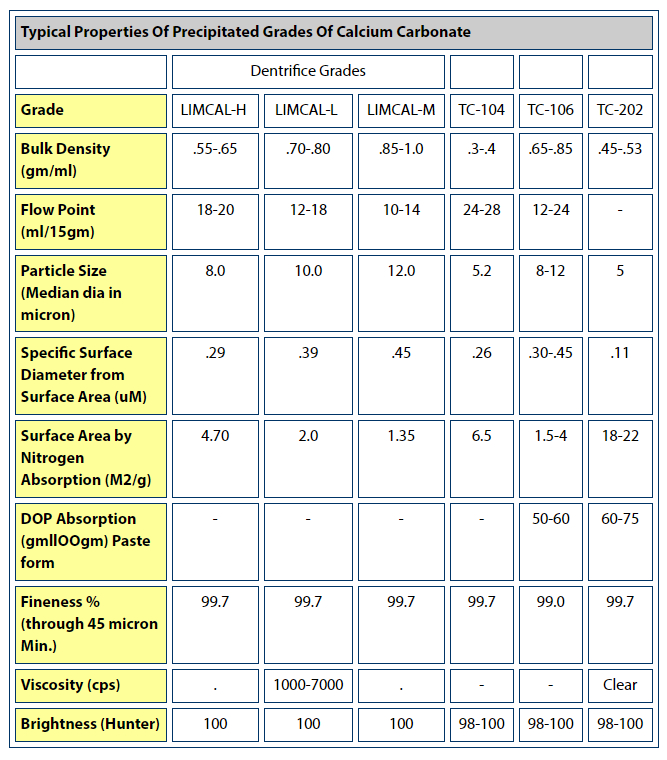 Download File
Typical Microbiological Standards Of Dentifrice And Pharma Grades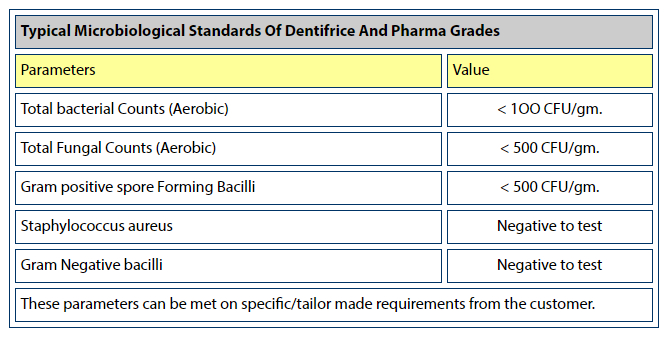 Download File
Typical Properties Of Coated Grades Of Calcium Carbonate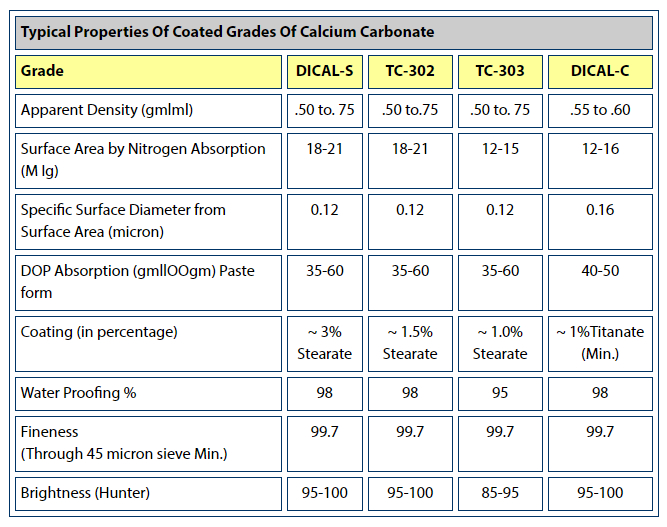 Download File
Imagine a company that's just a dedade old, yet already india's largest manufacturer of Precipitated Calcium Carbonate from India.

Imagine This: Our Products beat even the most stringent quality Measures!

Now it's just another fact: with persistence, commitment and ambition one can really achive their goals, since we have done it.

1997, Kunal Calcium Started its Journey with a group of technocrats' dreams and limited resources. Today we have a sprawling infrastructure and deeply satisfied global customer base among the industrial users of Calcium Carbonate to boast of. In just 10 years our production grew five old. Today we are inthe verge of further diversifying Our business in specialized applications of Calcium Carbonate.

Our Quality Control Labs work in seamless synergy with our development wings to create more customer specific products, in sync with our industry centric approach for total customer satisfaction.
Typical Physical Data
These grades of precipitated calcium carbonate are fine white power of Aragonitic structure with different particle size distribution & apparent densities.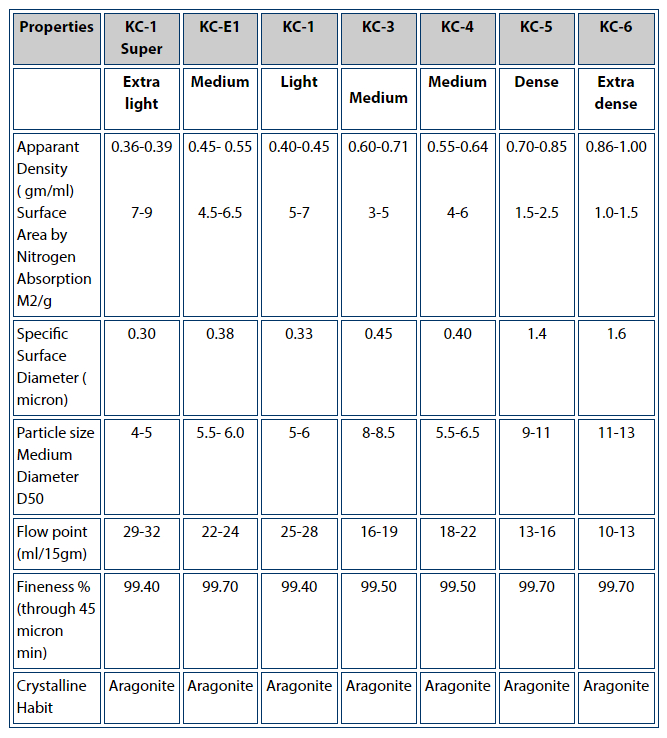 Download File
Chemical Analysis
Typical chemical analysis of all KC grades of precipitated calcium carbonate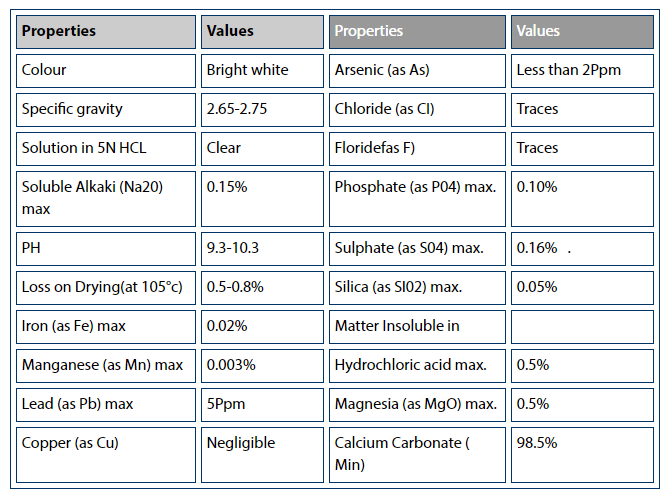 Download File
Typical Physical Data
These grades of Precipitated Calcium carbonate are pure white ultra fine powder with smoothertexture and calicite structure having high opacity.d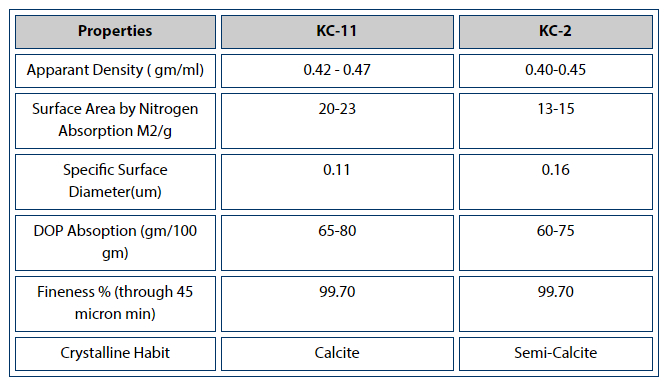 Download File
Typical Microbiological Specifications for Dentifrice and Pharma Grades

Download File